October 20, 2017
Deadly California Fires Stretch an Already Tight Housing Market
Ethan de Seife and Laura Holtan moved to California's Sonoma County from Vermont last year with their newborn son, two cats and a dog in tow, immediately running up against a harsh reality: the state's housing market is expensive, and inventory-starved.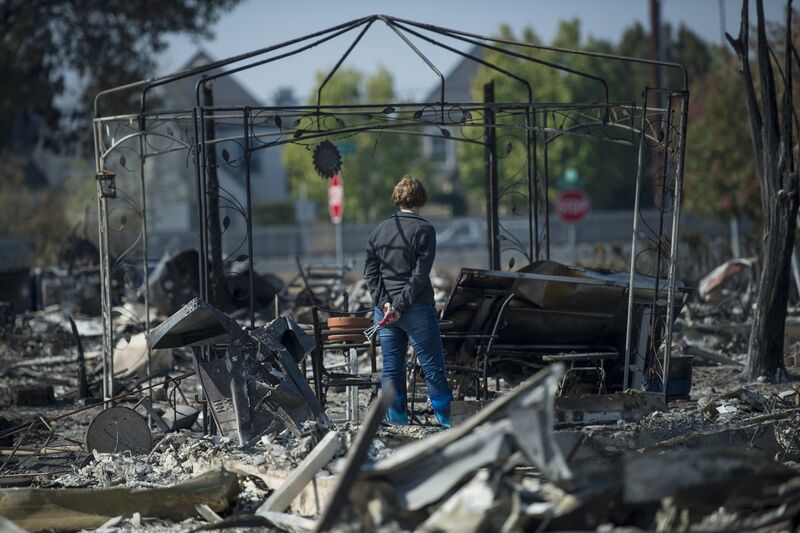 It took the couple a month of scouring online listings and vetting properties before they secured a four-bedroom house to rent for $2,800 a month in the Hidden Valley neighborhood of Santa Rosa.
Now, they have to start again — while picking up the pieces of a life reduced to rubble. De Seife and Holtan awoke in the middle of the night on Oct. 9 to the smell of smoke and were soon evacuated as fire roared toward the area, ultimately burning down their house. The family is bunking with friends south of San Francisco and weighing offers of assistance while trying to determine a more permanent living plan, which may ultimately mean leaving the state.
"There's nothing off the table," said De Seife, 44. "If we can't get any of these things going, we might just go."
The fires ravaging Northern California's wine country have left thousands in a similar plight, and from a real estate perspective, the disaster is happening in one of the worst-possible places. The area has already been squeezed by a severe housing crunch and escalating values — with rents in Santa Rosa rising the most of any big U.S. metropolitan area in the past five years — leaving few options for people to live while homes are being rebuilt.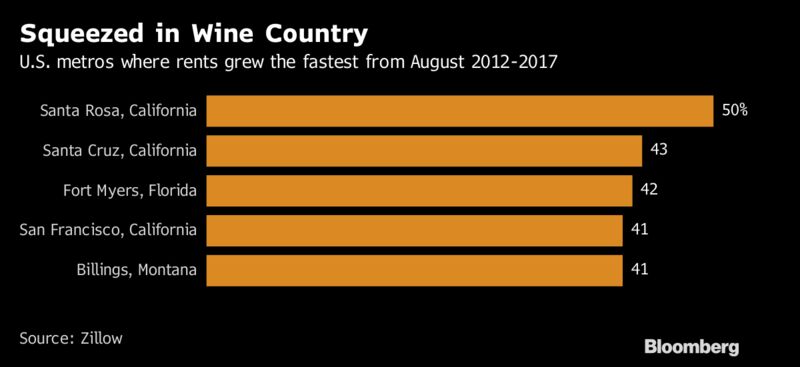 California faces a different set of housing challenges from other U.S. areas that are reeling from recent natural disasters. In Houston, where more than 100,000 homes were flooded by Hurricane Harvey, there was a glut of new rental apartments to house people. Texas and Florida, battered by Hurricane Irma, have active markets for new construction.
"Even though the number of households affected by wildfires is substantially less than households affected by Harvey, Irma, and Maria, those who are displaced are likely to have a much more difficult time relocating," said Ralph McLaughlin, chief economist at real estate website Trulia.
Soaring Prices
Santa Rosa, the Sonoma County seat, has seen property values soar amid strict building regulations and demand from people seeking refuge from million-dollar home prices in San Francisco, about an hour's drive to the south. Rents have jumped 50 percent in the past five years, the fastest growth of the top 233 U.S. metropolitan areas, according to Zillow. The median home price was $599,000 as of August, a 77 percent increase from the same month in 2012, Zillow data show.
There's little available to lease, with the apartment occupancy rate in the Santa Rosa-Petaluma market at 96.5 percent in the third quarter, according to RealPage, which considers a 95 percent occupancy rate essentially full.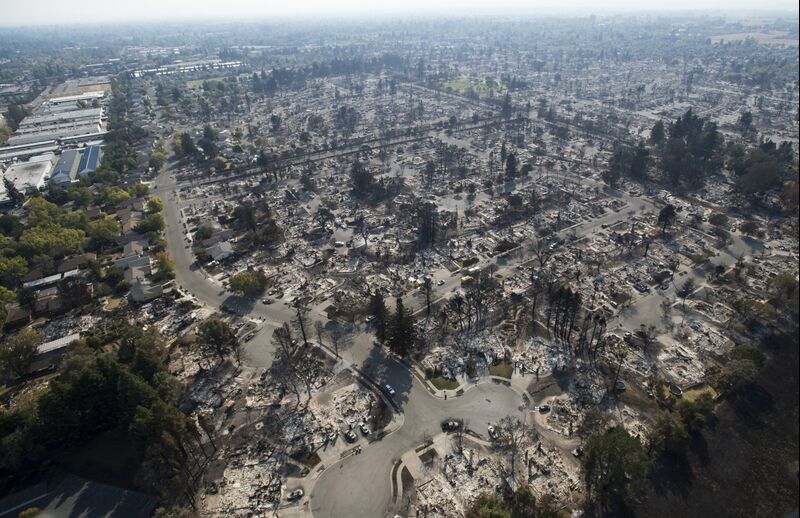 With the fires still blazing, it's difficult to quantify the number of homes that may be affected. And for now, people are still grappling with loss and looking out for the safety of friends and neighbors. So far, more than 221,000 acres of land and 3,500 homes and other structures have been destroyed, according to the California Department of Forestry and Fire Protection. At least 31 people have died.
Housing supply is short across the entire Bay Area. Displaced homeowners looking to relocate would find the most comparable home values to Sonoma County in Contra Costa County, to the east of San Francisco, Trulia's McLaughlin said. Renters may have to travel as far as San Benito County, south of San Jose, based on comparable rents. Meanwhile, the onslaught of permit applications and heightened demands on construction labor will likely lengthen the rebuilding process.
Waiting Lists
Lawrance Florin, chief executive officer at Burbank Housing, Sonoma County's largest operator of affordable housing, said that even before the fires, there were 15,000 people on his organization's waiting list for low-income apartments. That number is likely to increase as the fires turn homeowners into renters, at least in the short term, putting further pressure on the rental market.
Florin said that 15 of his organization's 63 properties had been evacuated, driving 1,500 residents into shelters. Fire consumed a structure across the street from one of Burbank's buildings, but stopped short of the rental property.
In the long term, Florin said he hopes that the devastating fires will compel state and local politicians to reform regulations that restrict new construction and make building more time-consuming and expensive than it is in other states.
"There's the possibility that as folks start to rebuild they do so with higher density and more units," he said.
It's a sentiment that may play well across the country. The U.S. real estate market isn't adding enough new homes to meet normal demand, let alone react to a natural catastrophe, said Nela Richardson, chief economist at brokerage Redfin.
"The housing system can't handle the shock," she said. "Any event, even a big rainstorm that floods out several basements in a neighborhood, something as trivial as that can overwhelm the system."